Why should you buy Loose Blue and Rainbow Moonstones?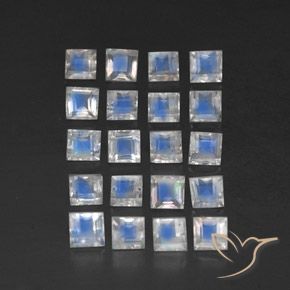 Are you the person who likes soft, elegant yet stunning jewel?? If yes, then Moonstone shall be the right choice for you. Moonstone is a naturally sparkling stone and can be found in varieties of colors such as white, grey, pink, blue, red or orange but it always has a white or a blue sheen.
Moonstone was declared as a state gemstone of Florida in 1970 after Neil Armstrong and Buss Aldrin's historic landing on the moon. This stone was extremely popular during the Art Nouveau period, and also used to decorate much of the jewelry created by Dene Lalique. Moonstone has always been considered as stone of love and lovers. In some cultures it is offered to wear to women as a blessing to ensure fertility. The most positive results of Moonstone are shown when it is wearied in full moon.
Rainbow Moonstone is a member of feldspar gemstone family. The chemical composition of a natural moonstone is potassium aluminaosilicate (potassium, aluminium and silica) and it is categorized as orthoclase feldspar. When looked by higher powered microscope the internal structure of the stone is layered by tiny crystal platelets. Within these layers, inclusions of sodium feldspar can also be seen. Though the body of Moonstone is colorless or transparent light travels to the interior body of the stone and when the light touches to this sodium feldspar, it's directed back outward instead of passing completely. Depending upon the thickness and depth of the layers, color of the actual body and the precise chemical composition the visible color of Schiller may be either white or blue. The blue sheen of the Moonstone is the most priced one. These gems are valued according to their body color, internal clarity, color depth of blue sheen and by the size of the stone also.
Rainbow and Blue Moonstones will help to achieve emotional balance and also evokes calm responses. This stone is also thought to be a stone of protection especially for travel at sea, pregnancy and child birth. Considered as ideal stone for love it often protect true love and to bring forth tender feelings. On health grounds, it is believed to reduce or aid blood-pressure, menstrual problems, hormonal issues and obesity.
After reading so much good qualities of Moonstone you all must be thinking to use it in your life and making jewelry out of it. For that you will need a

Wholesale manufacturer of Blue and Rainbow Moonstones

. Aren't you? You need not to think much, we at Navneet Gems and Minerals are the best in this field. The company has an excellent experience of working in gemstone industry from last 18 years. Rough of Moonstone is directly imported from the countries like Sri-Lanka, India, Mexico, Myanmar, Brazil, Tanzania and U.S.A. Though our company imports rough from Sri-Lanka as the highest quality of Moonstones are found there. All sizes and shapes of Moonstones are available with us. To buy Moonstones, write an email to us at info@navneetgems.com.
Keep those eyes scrollin'
www.navneetgems.com
info@navneetgems.com
Mobile: (
+66) 838968469
Facebook - For Exciting updates, pictures, prices of Gemstones
LinkedIn - Join our professional network with 300+ contacts
Twitter - Every day tweets about Offers, Promotions, Products
YouTube - Videos about the gemstones.
Blogger - Read our Blog for news and information about different products and services
Articlesbase - Articles about the Gemstones
Sooperarticles - Articles about the Gemstones
Pinterest - Exciting Gemstones board and pins
Website - Get information about more than 500 gems and stones.